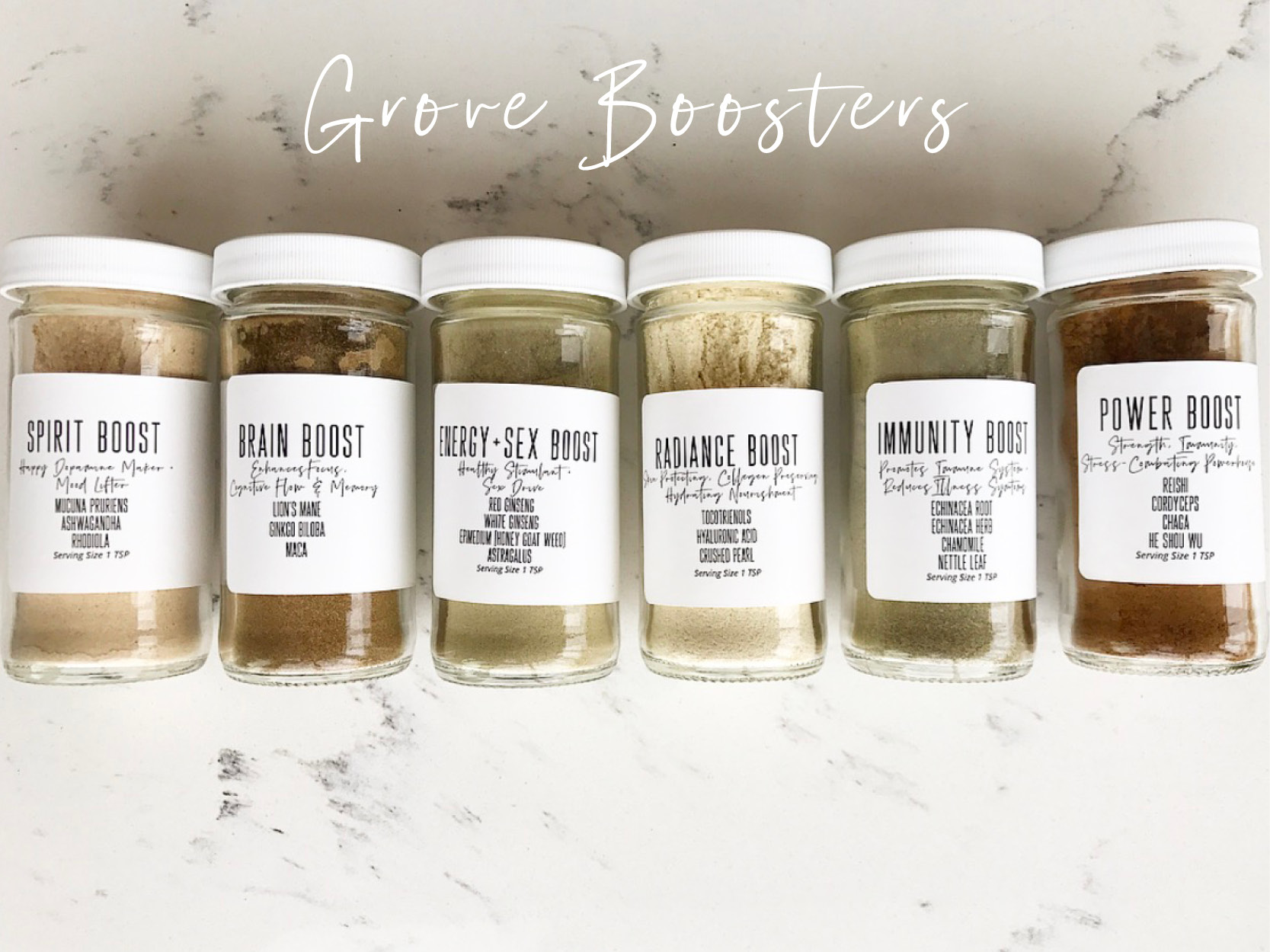 BOOST COLLECTION SET
GROVE BOOSTS
We have specially created the Grove Boost Collection to help you control those sneaky, little triggers that rise with stress levels! Balance your health, happiness, beauty, brain and overall wellbeing with our Powder Boosters and Mixes! THRIVE in your day-to-day, go-go-go, busy life! Feel and look your best with our Grove Boosters created with extremely potent, pure, sustainable ingredients for effective products that nourish your wellbeing and elevate beauty! Add 1 tsp to your favorite smoothie, latte, coffee or tea!
Radiance Boost – Tocotrienol, Hyaluronic Acid, Crushed Pearl
Transform your SKIN health with our Radiance Boost designed to strengthen and protect skin tissue + increase and preserve collagen + hydrate and nourish your skin, hair and nails from the inside out!
Brain Boost – Lion's Mane, Ginkgo Biloba, Maca Root
Feeling foggy? Not Today with our BRAIN Booster! These ingredients work together to quicken your mind for more focus + concentration + mental stamina increasing cognitive flow, neuroprotection and memory!
Spirit Boost - Mucuna Pruriens, Ashwagandha, Rhodiola
Our SPIRIT Boost, an adaptogen blend made to support a calming presence + increase happy dopamine + lift your mood!
Energy + Sex Boost - Red Ginseng, White Ginseng, Epimedium, Astragalus
Keep your positive ENERGY + SEX drive up this season with our blended booster created to increase stamina + fight fatigue + energize your mind and body!
Power Boost - Reishi, Cordyceps, Chaga, He Shou Wu
This blend of super- shrooms & adaptogens is POWERFUL, aiding endurance + longevity + recovery + immunity! This blend adds energy, strength and nourishment to increase the body's resistance to stress, helping it overcome all health challenges more quickly!
Immunity Boost - Echinacea Root, Echinacea Herb, Chamomile, Nettle Leaf
NO FOMO ever, you will be able to hit every party, every trip and every sale through supporting your immune system and reducing illness symptoms with our IMMUNITY Booster